In areas served by a utility grid, residential- and community-scale solar is usually connected to, and feeds power into the grid through the home's electric meter. The meter measures the energy flows, and calculates any "net metered" value due. This means the utility credits the amount of energy flowing into its system against the home's monthly energy consumption bill (note that this is an on-bill credit, not a cash payment for energy provided to the grid).
These systems are scaled to the size and energy consumption of the particular structure, and can be "roof-top" (photovoltaic, or "PV" panels mounted on a building's roof); ground (a free-standing PV array on the ground); or "PV-on-a-pole" (ideal for manufactured housing, as developed by the NM Energy, Minerals, and Natural Resources Department and shown in the photo).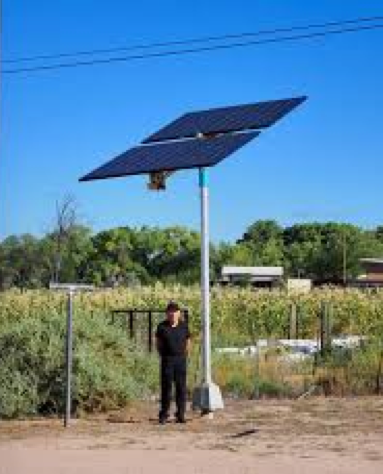 In those regions with no utility grid service, residential "Solar Home Systems" are the only way to provide electricity to homes. They are relatively inexpensive but also generally limited in the amount of power they can provide, and the types of appliances that can be used. No approvals or agreements are needed, but a trained installer is essential.
Typically, an individual or community will work with a qualified solar provider to assess, design, and install a project. Many can provide or help arrange for financing sources. The graphic below illustrates the key aspects of small-scale solar: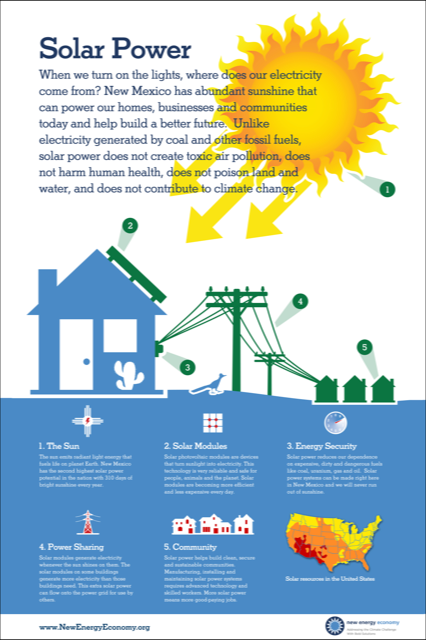 Getting Started
The Solar Energy Industries Association offers a Residential Consumer Guide to Solar Power with these key "Moving Forward" evaluation steps:
Know your electricity usage: Your utility bill will show your electricity usage in kilowatt-hours and the amount you pay for that electricity.
Know your electricity rates: Consider how your electricity bills are calculated; do they vary depending on time of day? Is there a fixed monthly charge? Will you be compensated for extra electricity generated by your solar array?
Know your roof: Is your roof appropriate for solar? Does it receive a good amount of sunlight or is it mostly shaded? How old is the roof?
Know your finances: Will you be better off buying, leasing, borrowing, or financing your system through a Power Purchase Agreement?
Utility Role
An interconnection agreement with the utility is required during the planning stage and prior to installation, so as to make sure its local distribution system is not overloaded.
Economic Factors
Funding is needed for purchase of the PV panels and their installation. Once paid for, the panels generate electricity at no cost to the owner, which can be used to offset part of electricity usage billing from the utility (see above). Several grant programs exist (see below) to support tribal projects (see the ESI Funding Resources page for additional information on these, and commercial financing options).
Providing energy to community and commercial buildings and operations can increase the financial feasibility of a project, especially casinos for gaming tribes, and also travel centers, health clinics, and other operations that consume larger amounts of electricity.
Project Examples
Brief summaries of project examples follow. See the Case Studies page for more in-depth project analysis.
Pueblo de Cochiti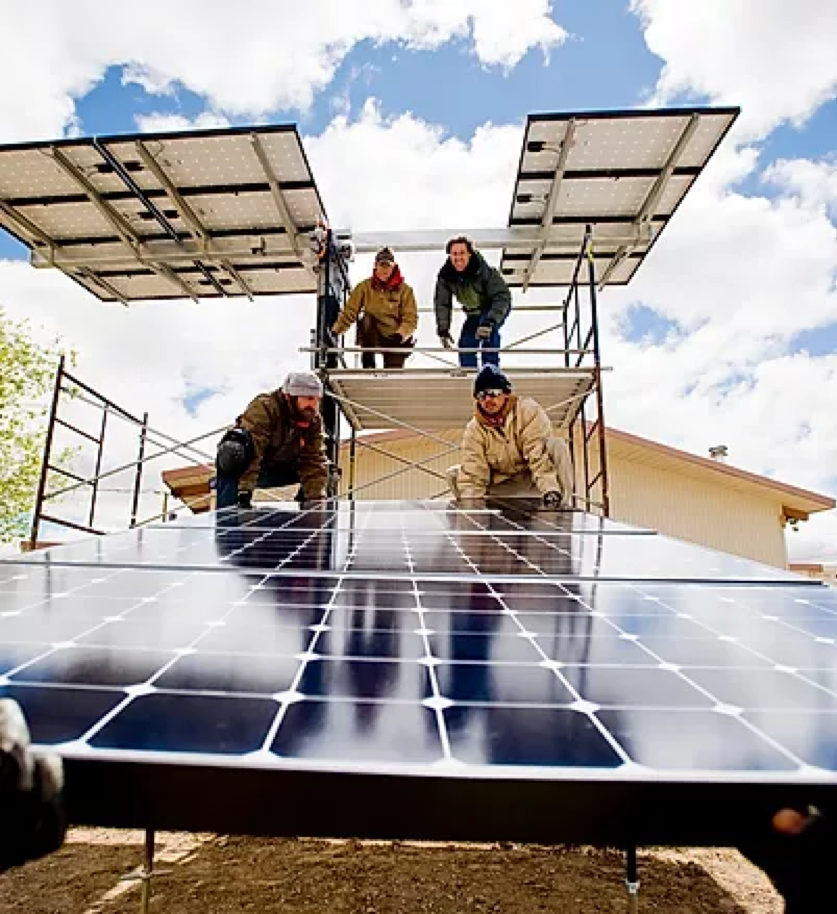 Cochiti Pueblo has solarized the Hahn Center (shown left), their all-purpose community center for summer programs, classes, celebrations, and receptions, in partnership with New Energy Economy. The project objectives included environmental (reduction in coal-generated electricity) and economic (reduced costs). The Pueblo is now planning to solarize the Keres Children's Learning Center, also with New Energy Economy. Children of the Pueblo receive 50% of their school instruction in their native language (Keres). By teaching the language, the Pueblo is passing on its history, values, beliefs, and a worldview.
Gallup Solar
New Mexico is home to a unique, non-profit off-grid solar installation organization, Gallup Solar. Gallup Solar envisions a flourishing and healthy environment that enables all communities to live in harmony with creation. Gallup Solar's mission is collaborating with communities, elected representatives, utilities and industry to bring solar power to all peoples in its service area of the Eastern Navajo Nation, through a community participation model designed to train members of the Navajo Nation and the Pueblo of Zuni living off the grid to install, maintain and trouble-shoot solar systems on their own homes and those of extended family. Participants have the opportunity for solar certification, to act as trainers for ensuing classes and as ambassadors for solar energy. Programs 11 and 111 include refrigeration for medication and fresh food. The company enables small-scale projects as shown in this video, and  invites email inquiries from those interested. 
Cornerstones Solar Initiative Projects
In addition to those described above, the Cornerstones Solar Initiative has funded the following projects:
The Pueblo of Laguna was the recipient of funds to design and conduct a study of power needs for solar installation on a community building in one of their six villages.
The Pueblo of Nambe was granted funds through a partnership with Jemez Mountains Electric Cooperative to install PV-on-a-Pole at two homes. Cost savings and the opportunity to promote the benefits of solar energy on the Pueblo were the incentives for the project.
Zuni Veterinary Clinic received a grant to solarize their newly constructed, self-sustainable Veterinary Clinic, designed by Biotecture Planet Earth. This design will reduce energy bills, provide natural heating, cooling, water and electricity. It will also act as a showcase for off-the-grid buildings.