The Energy Sovereignty Institute
The Energy Sovereignty Institute (ESI) is a social initiative of the Sustainable Native Communities Collaborative (SNCC) and the Microgrid Systems Laboratory (MSL), designed to promote the benefits of decentralized energy systems and technologies for Native American communities, and to advance their availability and use.
ESI's mission is to ensure that indigenous communities have access to the most current cultural, technological, policy and regulatory, and financing resources in support of their goals in sustainable energy generation, distribution, and consumption. Watch our video below on Energy Equity for Native Americans:
The ESI Web Resource-Base and Clearinghouse
With financial support from Remy's Good Day Fund, this website aims to increase tribal members' and energy planners' effectiveness by providing ready access to useful information and resources, and to accelerate renewable energy projects on the ground. The initial focus is on the state of New Mexico, with the capacity to scale to other states or nationally at a future time. You'll find information here on how-to guides, resources available, regulatory issues, and other useful subjects.
What is Energy Sovereignty?
Energy sovereignty applies the concepts of tribal sovereignty to energy resources and uses. It is "…the right of conscious individuals, communities and peoples to make their own decisions on energy generation, distribution and consumption in a way that is appropriate within their ecological, social, economic and cultural circumstances…."
Because energy affects everything we do, it is a critical component of community independence, that also relies on advanced technology and financing tools, and regulatory measures. And because climate change is driven in large part by fossil fuel energy sources, renewables and solar generation are critically important.
"Tribes are not vestiges of the past, but laboratories of the future."

Activist Vine Deloria, Jr. (Sioux)
Many On-Ramps
Indigenous communities of all sizes and levels of technical experience can participate in tribal energy planning, sustainability and resilience, and the development and deployment of renewable energy projects. In NM, the strongest resource on tribal lands (and the focus of this resource-base) is solar; and as can be seen in this map from the National Renewable Energy Laboratory, NM is among the strongest nationally (ranked third, behind only Arizona and Nevada):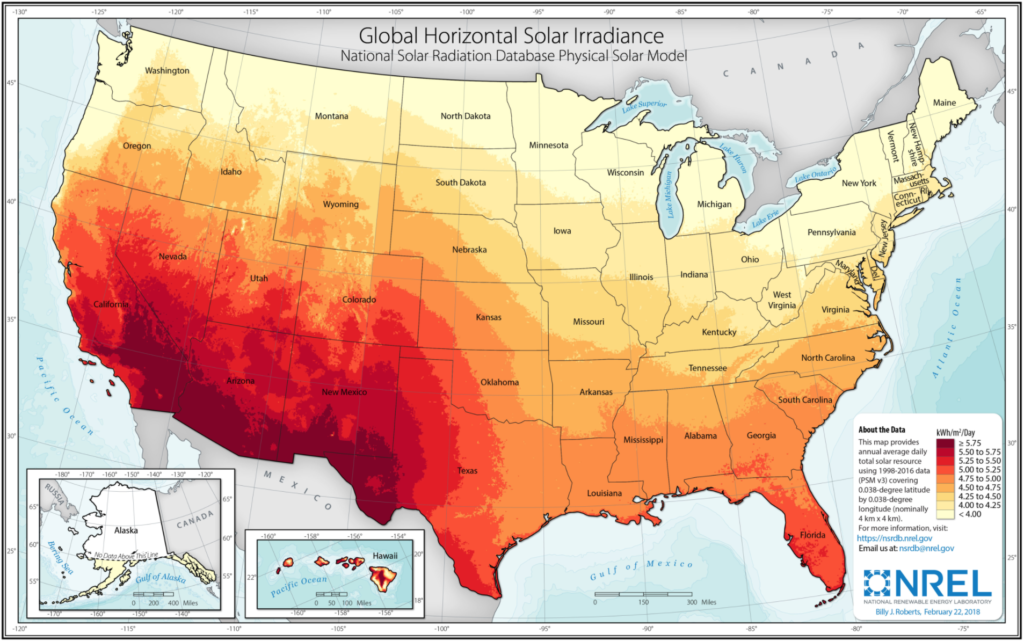 Solar Irradiance Map by The National Renewable Energy Laboratory
There are three main categories of projects and approaches in New Mexico:
Community Benefits
In addition to supporting tribal energy sovereignty, the benefits of renewable energy development include health (improved air quality through reduced emissions), economic (potentially lower energy costs and/or revenue from energy export), resilience (maintain electric power during utility outages), and workforce (opportunities, training).
Renewable energy projects can also be part of a tribe's broader energy strategy planning process, and/or climate and sustainability planning efforts.