ESI convened a two-day Tribal Energy Workshop in 2019, with 8 tribes represented and approximately 40 attendees. A range of presentations from local and national experts covered areas including energy sovereignty, technology, regulations and policy, case studies, and more. Click the links below to download PDF versions of the expert presentations and the workshop Final Report:
Report on 2019 ESI Workshop: ESI Workshop Final Report
Tribal Technical Assistance: Stanley Atcitty, Sandia National Laboratories
Electric Utility Infrastructure and Alternative Energy: Stanley Atcitty, Sandia National Laboratories
Federal Resources: Scott Beckman, North Central NM Economic Development District
Energy Sovereignty and Microgrids: David Breecker, Energy Sovereignty Institute
The NM Energy Transition Act: Camilla Feibelman, Sierra Club Rio Grande Chapter, and Steve Michel, Western Resource Advocates
Electric Coops, and the NM Energy Transition Act: Christian Casillas, Coalition of Sustainable Communities NM
Utility-Scale Solar Generation: David Griscom, PNE Energy
Spokane Solar Energy Project: Tim Horan, Spokane Tribe of Indians
Picuris Solar Energy Project: Les Rubin, Pueblo of Picuris
Energy and Affordable Housing: Esther Toporovsky, Enterprise Community Partnerships
Energy Workforce Training Programs: Steve Gomez, Santa Fe Community College
Highlight from the 2019 ESI Workshop
What does energy sovereignty mean to you?
This "word cloud" captures responses to the question "What does energy sovereignty mean to you?" from the participants at ESI's 2019 Tribal Energy Workshop: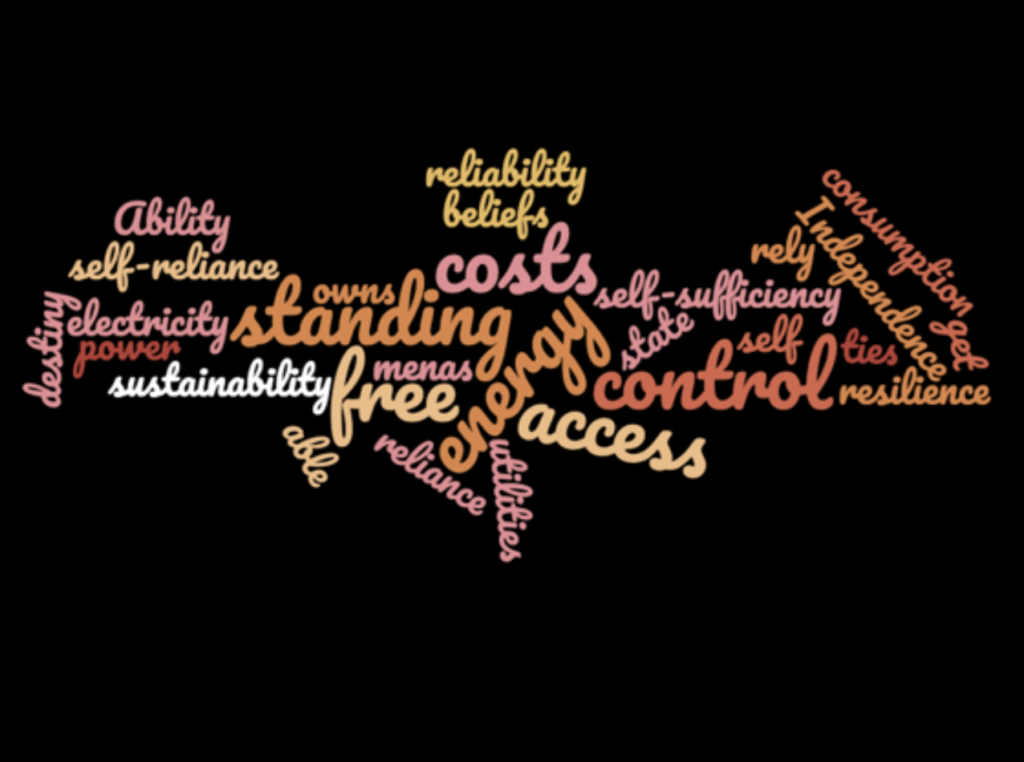 Add your answer to the thread on our Discussion Forum.